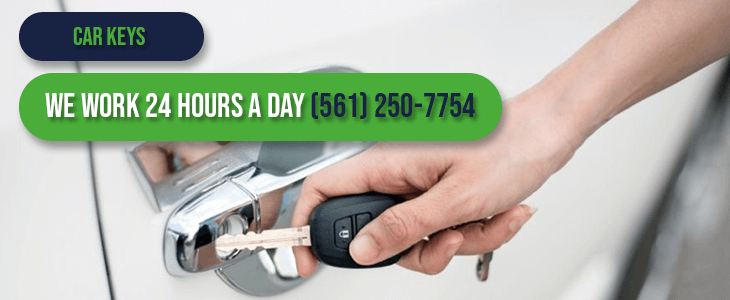 Are you looking for a car key replacement service in Greenacres, FL? We offer a better, simpler solution than towing your vehicle to the dealership. They operate 24 hours a day, seven days a week, to meet your needs. Even if you don't have a spare, we can cut, program, copy or repair your broken key if you don't have one. There is no need to worry because we work with all types of car keys. Furthermore, we are proud to offer the lowest prices in Greenacres, FL, and the surrounding areas. Call us at (561) 250-7754 today, and we will replace your automotive key in no time!
100% Mobile Car Key Replacement
We come to you! That's one of the best things about our service! We have mobile technicians available for your call in the Greenacres, FL, metropolitan area. All of them are fully equipped to duplicate keys, replace lost ones, or program your car key blank if you bought it yourself. We know running a mobile car key replacement business isn't easy, but we're confident we can handle the job well the first time.
Are You Looking for 24-hour Mobile Assistance in Greenacres, FL?
A lost or broken key can be a stressful situation. The situation can also be very frustrating, and you may be late to work or be in an emergency. Car key replacement in Greenacres, FL, can be handled by our team of experts. We offer quick and affordable auto key replacement services that are available 24/7. Furthermore, we have the experts you need to create new keys for your car or truck. As for our pricing, we provide high-quality services at very reasonable rates. We offer lower prices than many local services and all other companies that offer these services. Although our company offers very low prices, we still provide high-quality services. Call us now for car key replacement or car door unlocking in Greenacres, FL!
Ignition Repair or Replacement Service
Some people don't realize that the car's ignition is sometimes the issue. Our team in Greenacres not only specializes in car key replacement solutions but can also repair your ignition if something goes wrong. In our experience, almost 90 percent of the time, a technician can fix the issue on-site (without replacing the hardware). Dial (561) 250-7754 for more information. We can do all of these and more for you!
Keyless Entry Car Key Replacement
With the advent of modern technology, consumers have enjoyed numerous benefits. One of these is keyless entry auto keys, which are convenient. Just like anything else in life, there are also downsides. If your vehicle key system fails, you will likely find yourself helpless and unable to start your car. We are happy to offer daily mobile keyless entry car key-made services in Greenacres, FL. Therefore, Our equipment can be used to cut and program transponder keys for any car make and model on the market. The next time you have trouble with your automotive keys, don't hesitate to call Greenacres, FL's best car key replacement service at (561) 250-7754